CLINICCARE Non-Invasive Carboxytherapy is a treatment during which a gas, carbon dioxide (CO2), is infused into the skin to encourage an increased flow of oxygen. Carbon dioxide is a naturally occurring gas in the body and as such it can not cause any allergic or other unwanted reactions.
What does a CLINICCARE carboxytherapy treatment look like?
During the treatment, a Carboxytherapy Gel is applied to the face in an even layer. A Carboxytherapy Activator Face Mask is then pressed firmly onto the gel. The interface produces a specific amount of carbon dioxide, which is infused into the skin.
During the treatment the client/patient may feel a slight tingling and the treated area can become mildly red due to a sudden deposit of oxygen. Within 5 minutes post-treatment, the carbon dioxide applied to the skin is completely replaced by oxygen. The client/patient can go back to their usual activities after treatment and no recovery period is required.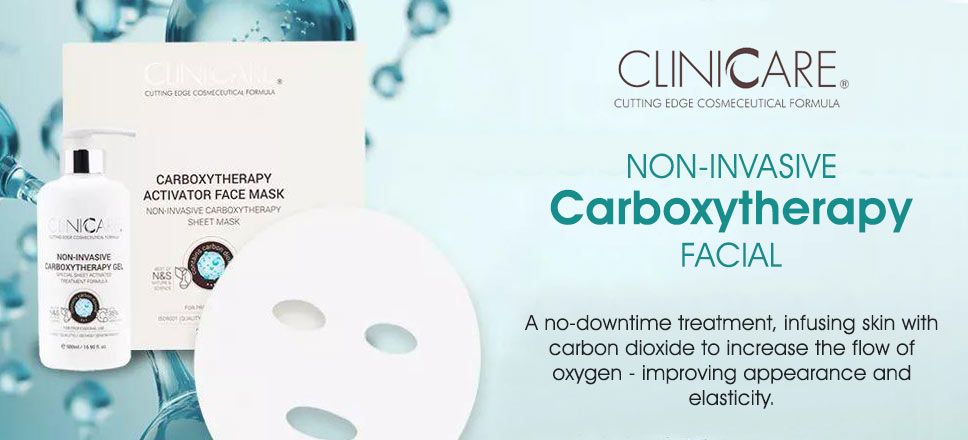 How many carboxytherapy treatments are required?
Depending on the desired results a series of between 4 to 8 treatments of non-invasive carboxytherapy may be required and the treatments can be conducted once every 7 to 14 days. The effects of a Carboxytherapy treatment are cumulative – with every subsequent treatment improving the results of the previous one.
After having a course of carboxytherapy treatments, the average effects last (until you need the next course of treatments):
about 2-3 months: age 50+
about 3-4 months: age 40+
about 4-6 months: age 20 - 40
How long does it take and how much does it cost?
Treatment time: 1 Hour
Treatment Cost £50 per treatment or get maximum benefit from a course of 6 treatments and only pay for 5.
If you would like more information or would like to see me to check for treatment suitability, you can find my contact details on the 'About Me' section or call me on 07970 848 939